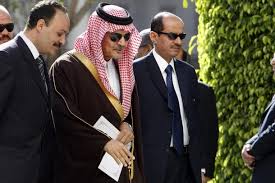 Jonathan Spyer
JPost
06 August 09
The idea of gestures of 'normalization' from Arab states to Israel is a central component in the US administration's plan for reviving the Mideast peace process.
The notion represents a variant of the Oslo-style approach whereby a series of confidence-building measures will create a climate conducive to the successful conclusion of final-status negotiations. President Barack Obama's approach seeks to expand the circle of confidence-building, so that the Arab states, and not only the Palestinians and Israelis, will be drawn into it.
According to reports, the US is now in the final stages before the announcement of its new, comprehensive peace plan. In the past week, meanwhile, three Arab states appear to have rejected the possibility of gestures of normalization.
Saudi Foreign Minister Saud al-Faisal last Friday openly dismissed the idea of "incrementalism" and "confidence-building measures." Jordanian Foreign Minister Nasser Judeh took a more ambiguous but still critical stance regarding such measures early this week in a meeting with Secretary of State Hillary Clinton.
Kuwaiti Emir Al-Ahmad Al-Jaber Al-Sabah, meanwhile, reiterated his country's support for the Arab peace initiative after a meeting with Obama. By failing to give any hint of a forthcoming gesture to Israel, or to express any support for the idea of normalization in principle, the emir appeared to be adding Kuwait to the list of Arab countries who prefer to politely decline the administration's request for assistance.
So far, the score-card for gestures of normalization from the Arab states to Israel stands at close to zero. Saudi Arabia, Jordan and Kuwait are all close allies of the US. Yet none have yet been willing to make a positive gesture in Washington's direction on this issue. What lies behind their refusal?
One explanation for this holds that the administration's pressure on Israel is leading to a hardening of Arab positions. Since Obama demanded a complete freeze on all construction in settlements, it would now be futile to expect Arab gestures of normalization unless Israel first accepts this demand. However, the Arab rejection of incremental measures has not been solely predicated on Israel's refusal of a comprehensive freeze on all construction in West Bank settlements. Rather, the very principle of normalization in the period prior to a final-status accord between Israelis and Palestinians appears to be rejected.
The rejection of this idea derives from two elements. Firstly, the near-universal, though rarely expressed, belief that the current attempt to revive the Israeli-Palestinian peace process is doomed to failure. Secondly, the distinct lack of urgency felt in Arab capitals regarding this issue.
(
Full article)
.