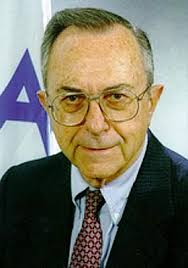 By Moshe Arens
Haaretz
15 July 2009
"We have achieved a national consensus on the concept of two states for two peoples," announced our prime minister at the opening of last week's cabinet meeting. This "national consensus," achieved after several weeks of intensive intellectual effort by him and his advisers, is now being trumpeted as one of the great achievements of Benjamin Netanyahu's government.
In terms of party politics it, no doubt, dealt a severe blow to the leading opposition party, Kadima, and its leader, Tzipi Livni. She, who for the past few years seemed to have nothing else on her mind than the establishment of a Palestinian state, suddenly had the rug pulled out from under her, and now tries to explain that Netanyahu is not serious when he advocates the establishment of such a state.
Forging a consensus between the coalition and opposition, or bridging the gap that existed between them until now, is easy. The coalition just has to adopt the opposition's position, and presto, there is a national consensus. The other way around is a little more difficult. What if the opposition leader were to declare that Jews have a right to live and settle in the Land of Israel, and that nowhere should the presence of Jews be forbidden? Or that Jewish settlers who established themselves lawfully in Judea and Samaria with the permission and encouragement of Israeli governments should not be uprooted from their homes? Or if she were to emphasize that Israel is a sovereign nation that does not take orders from anyone, not even the president of the United States? We would surely have a national consensus, but the opposition would find itself in deep political trouble.
Actually, in a democratic society there is nothing more natural than the rivalry between political parties and the absence of a consensus between coalition and opposition. That is what democratic politics is all about. And that was the focus of the recent Israeli elections in which the electorate gave its verdict.
As a matter of fact, a national consensus is not in the nature of things in a democratic society, except at a time of national emergency and mortal danger. It is then that ranks have to be closed, with the common enemy facing a united front. And although a nuclear Iran represents a danger to Israelis of all political persuasions, it has nothing to do with the establishment of a Palestinian state or continued construction in the Jewish settlements in Judea and Samaria.
(
For full article
)
.